Asset integrity management is an essential task for any type of industry, especially renewable energy, oil and gas, offshore, mining, manufacturing, energy, and other complex industrial plants. Besides being indispensable to achieving the expected results from these industries, it also involves increasing the life cycle of the equipment, reducing risks, and also reducing the plant's operating costs, which are extremely high.
However, fulfilling the goal of keeping the operation's efficiency at its maximum is not simple, especially in low-digitized environments. In this context, Digital Twin technology serves as a solution to optimize the process of digital transformation in the industry and assist decision-makers, in anticipating risks and reducing operation costs.
Main problems that increase the risks and costs of the operation
Analyzing just one piece of equipment within an industry can be difficult to understand its efficiency and to find data about it. When looking at the entire plant, the problem increases exponentially.
It is common for industries to have information decentralized in many systems, making it difficult to quickly access specific data. Many times, to analyze a single machine and make decisions regarding its integrity, it is necessary to access dozens of systems or even organize a new field inspection, which makes the process very inefficient and sometimes redundant.
This lack of a complete, unified and updated inventory of the industrial plant from the early stages of PLM (Project Lifecycle Management) considerably increases the time spent on simple tasks, and consequently also opens room for errors to occur.
And without considering this susceptibility to problems due to lack of information, it is also normal to have rework in inspection and maintenance activities.The consequence of all this is clear: high unnecessary expenses.
If the worst case scenario is considered, the situation becomes even more drastic. The combination of all the inefficiency in the operation of the assets mentioned above can lead, for example, to the need of replacing assets that could have a much longer lifetime if properly managed, and even unscheduled downtime in the operation, which have enormous unplanned costs.
How to deal with problems in operation efficiency
According to a Harvard Business Review study, approximately $1.3 trillion was spent by companies on digital transformation in 2018. In this context, industry digitalization also appears as a solution to the problems presented. Despite this, it is still necessary to be careful, because not everything offered in the market will be enough to deal with all the challenges presented in asset integrity management.
For this, it is necessary to find a solution that centralizes information from different databases of the industrial plant, facilitates the management of the operation as a whole, reduces rework during the maintenance of assets and as a final result reduces unnecessary expenses and boosts the efficiency of the operation. But doesn't that sound impossible?
Vidya Technology, then, understanding the industry's challenges, launched its Digital Twin platform, and has been working towards leading a data driven future for industries. Vidya's group of expert engineers understood that it was possible to bring together all these needs presented during the stage of industrial operation and maintenance, providing a data contextualization solution to centralize everything in just one place.
Want to understand more how this is possible and the real results obtained? Then we will explain everything you need to know about the platform!
How does the platform work
In the platform implementation stages, Vidya's team of specialists is responsible for carrying out the data contextualization process, which is highly scalable, as it can be reproduced for all equipment in the industrial plant, centralizing the data in one place. At this step, through multiple algorithms, 3D data processing, data mining and other techniques, many diffuse and lost data from different sources are integrated, such as:
Engineering data and drawings;
Operating Manuals;
Budgetary design;
Data from Enterprise Resource Planning (ERP), Computerized Maintenance Management System (CMMS), and Engineering Document Management System (EDMS).
With organized data, the Digital Twin starts working in a framework of inputs and outputs. The team responsible for inspections and maintenance of the assets can input data in the platform through mobile devices synchronized with the digital model, wireless and paperless. Field inputs such as screenshots, photos or even marks in the compromised areas of different equipment are directly linked on the 3D model. IoT Sensors and Laser scannings are other methods that can also be used for inputting data into the system, for example.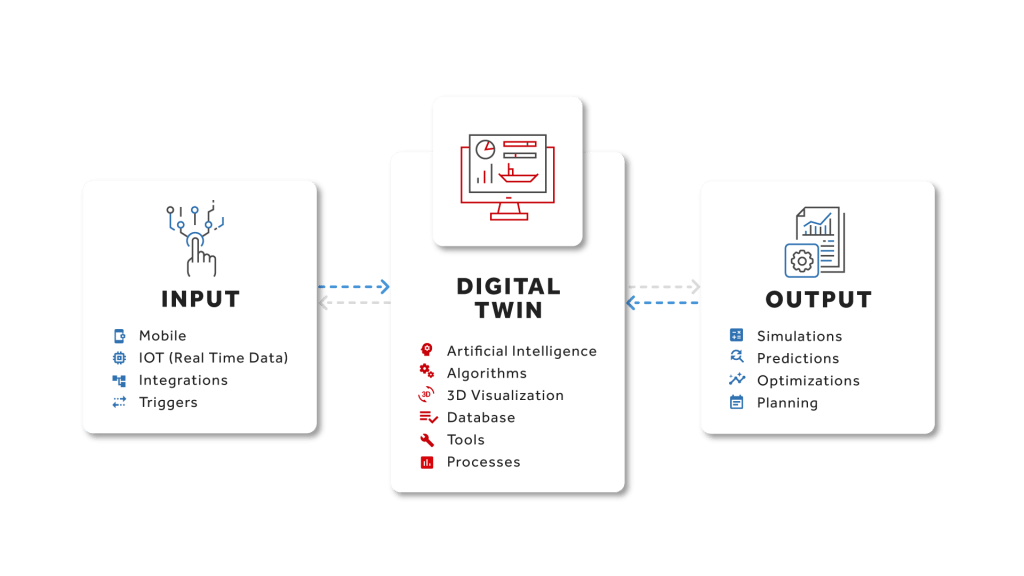 In addition, the constant exchange of information between the virtual and real environments, combined with technologies such as Artificial Intelligence and Machine Learning, allows the Digital Twin even more resources to provide meaningful outputs. Thus, using data about the life cycle of industrial assets, it allows predictive maintenance of these structures and makes it possible to understand when other equipment of the same material may need repairs.
Finally, it is still possible to customize the entire platform based on unique characteristics of the operation, registering new attributes, creating checklists according to the maintenance planning of the assets and even generating specific data in the available dashboard.
Results
Through this technology, it is possible to predict errors in the industrial process and reduce operation costs. Moreover, with the tools described above, you can simulate and calculate multiple variables regarding the life cycle of an asset, as well as manage all documents, reports, and work orders in one place.
All of these functions represent significant cost reductions in the operation and this is proven from the optimization in daily work of the operators and the increased data intelligence provided by the platform.
Connecting predictive maintenance – the safest for industrial assets and the lowest cost in the long run – with Digital Twin makes it possible to achieve considerable results, such as those achieved using the platform during the last year: 59% reduction of man/hour, 20% reduction of rework and redundant jobs and 75% of time saved to find information and alerts regarding any asset in the plant.
Your operation can be more efficient, safer, and cost effective using Vidya Software! If you would like to learn more about our solution, please contact us or download our brochure regarding features and results about our Digital Twin Software below!