Vidya Software has evolved over the years, but in 2020 this evolution was greater than ever! With a team of asset integrity specialists prepared to improve our product based on customer insights, and focused in offering the best industrial software in the market for Asset Integrity Management, we've developed new and cutting edge important features. 
Vidya is committed to  improving the software and making it a more agile, interoperable and reliable digital solution in the market. Focused on cost-efficiency, Vidya's team is always developing new ways to increase the productivity of the industrial process. Check out which are these features! 
If you still don't know our software, or want to know more about it, you can see one of our latest videos here. 
VFiles
Information Centralization: these two words motivated our asset integrity experts to develop the VFiles. This amazing new EDMS (Electronic Documents Management System) makes it possible to access assets documentation fast and precisely.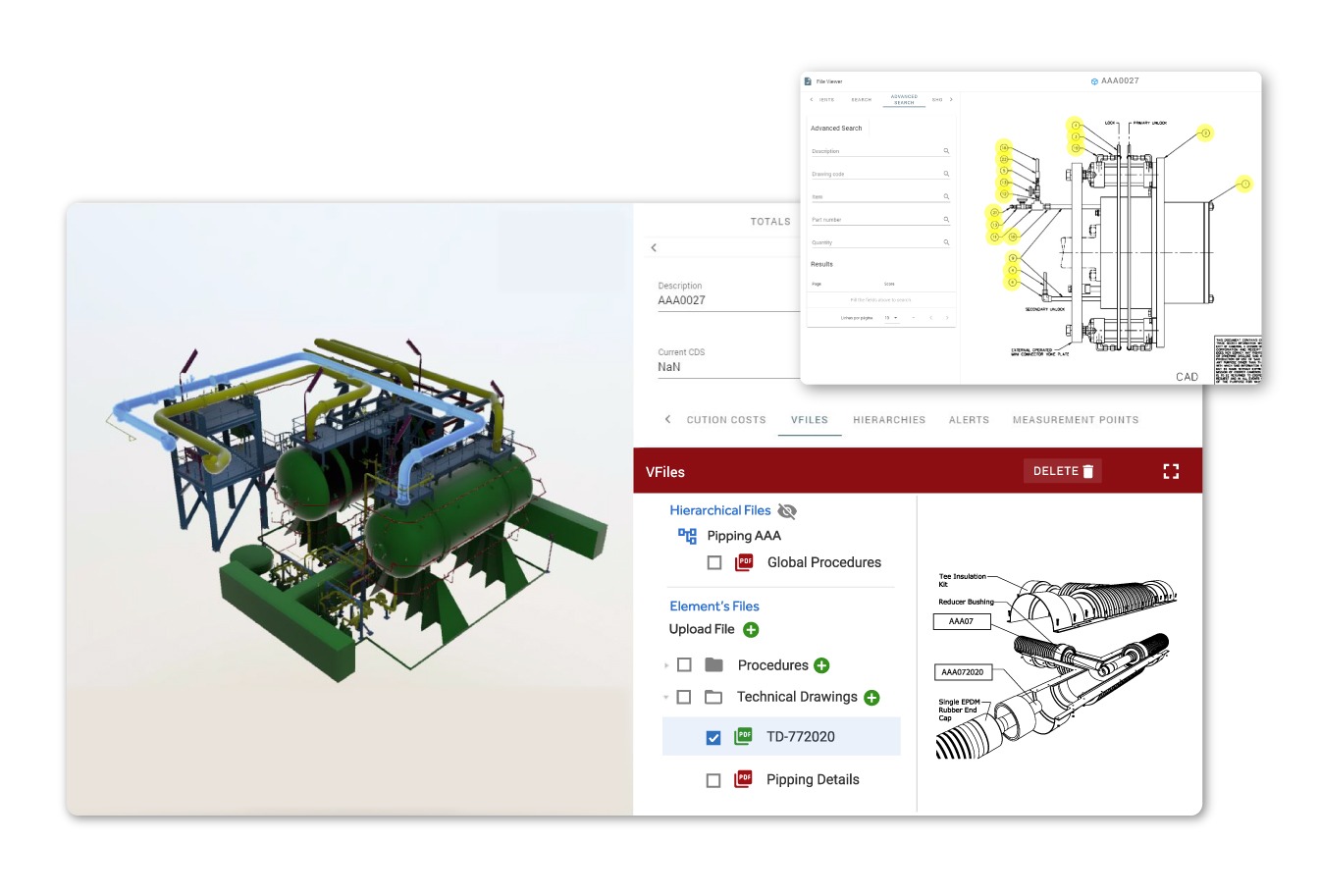 VFiles it's a smart feature in which you can link technical documents such as technical drawings, schematics and procedures to 3D model hierarchies, and also directly in each 3D element. When you select the component to be inspected, the software will show you the technical documents linked to them.
We've also implemented OCR (Optical Character Recognition) technology to index complex documents and optimize the navigation inside them, making it easy to find specific information. Besides, VFiles allows the synchronization of these documents with other client's EDMS tools. The result is reducing to by 30% the time needed to obtain Technical Asset Information. 
Alerts System
All your assets information in just one place: Vidya Software. Vidya's Alerts System centralizes all the information about the asset's alerts in just one platform, that can also be synchronized with other alerts systems that the client already has. Therefore, offering more efficiency to asset management.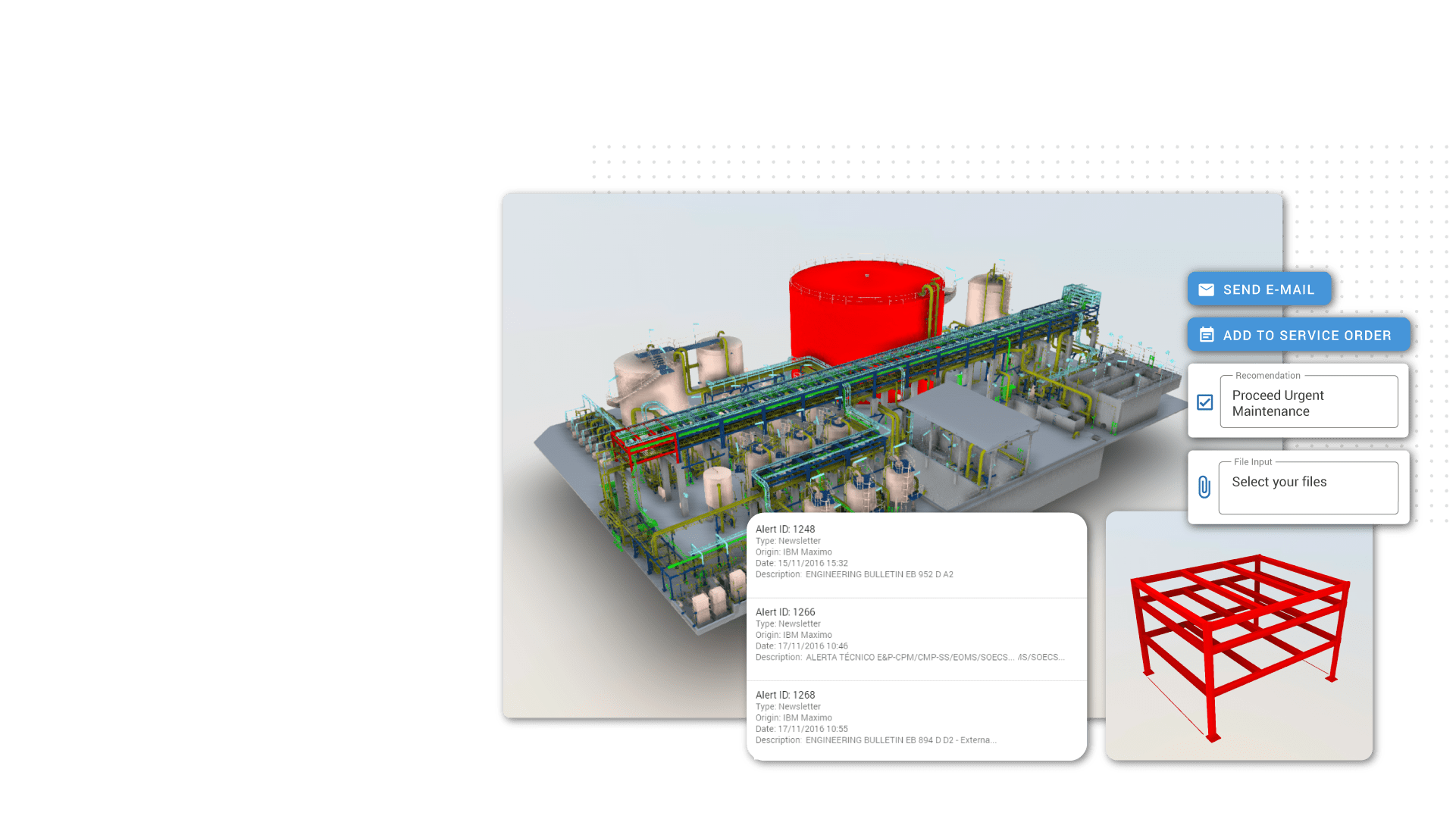 Our system also offers you recommendations and instructions on how to solve the problem indicated by the Alerts System. This feature is directly linked to our 3D model, enabling you to use color filters to identify which elements have alerts attached to them.
Also, you can unite the VFiles technology with the Alerts System. Therefore, connecting real-time data about incidents, alerts, and maintenance recommendations. In addition to reviewing engineering documents, linking everything to the digital twin. 
AI Forecaster
With our AI Microservices, as Predictive Modelling, Forecasting and Simulation, we bring past and future data to predetermined integrity or management indicators. The AI Forecaster is a powerful  feature for planning campaigns  in the industrial plant.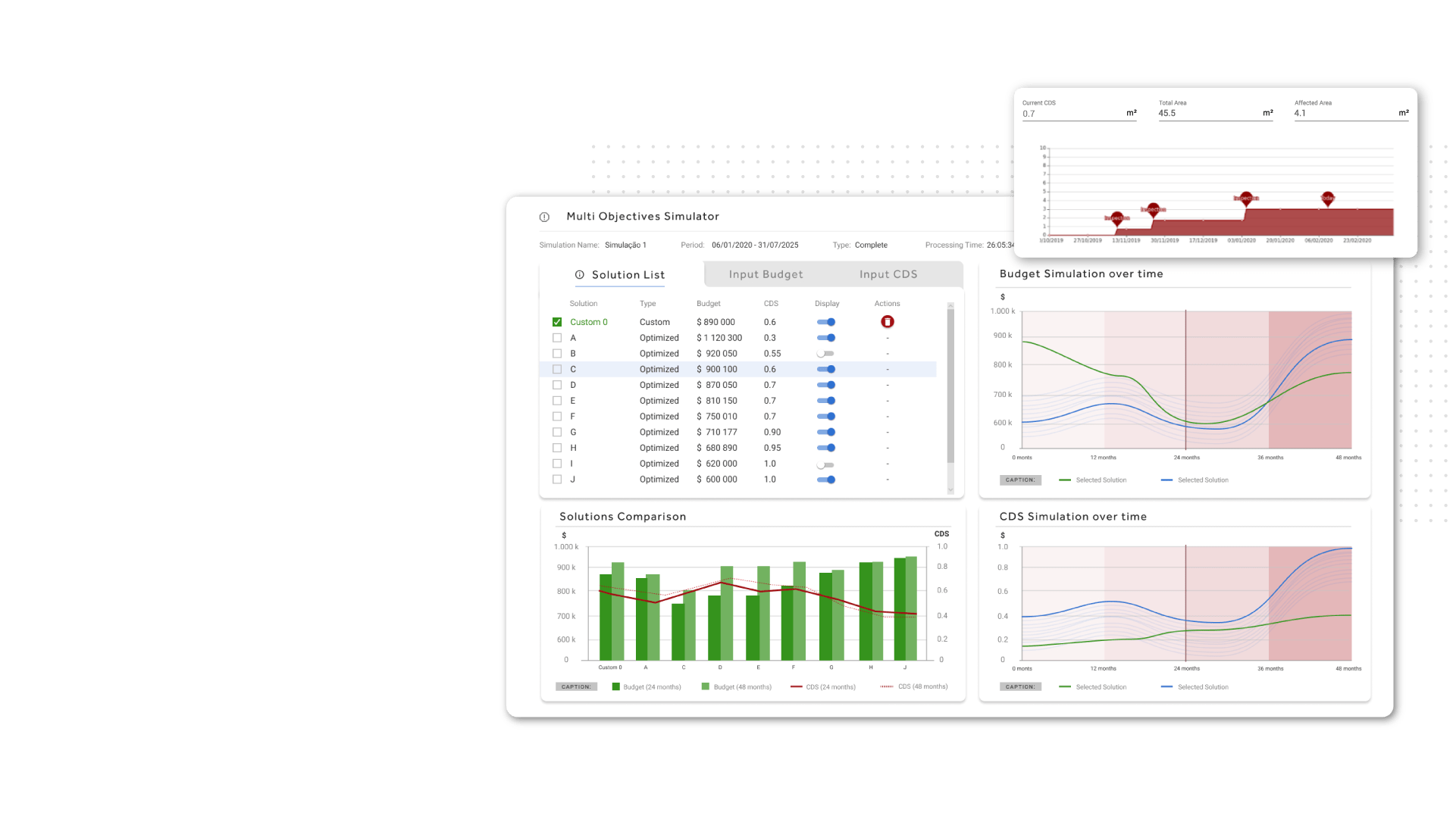 This feature crosses budget information with predictive models, and by using Artificial Intelligence, it's possible to simulate different scenarios. For example, you have a CDS (Corrosion Degradation State) level that you must keep into an acceptance range, artificial intelligence will calculate the budget you need to reach it in an optimal way This operation can also be made otherwise, with the budget information the software will calculate which is the CDS level you'll have. The AI Forecaster achieves this results through information as available teams, material consumption, and how much time will be invested for the activity, all of it indicated by the Predictive Algorithm.
In other words, It offers you different scenarios on how the level of integrity will perform at different resource applications. With this information, you'll follow the best cost-efficiency solution that fits your budget..The AI Forecaster is a revolutionary feature, making it possible for you to automate what is usually made by hand, taking a long time to be done and sometimes not being as accurately. 
Twin Navigator 
Have you ever imagined being able to compare the industrial asset with their digital twin? Based on real photos and information from the industrial plant, Vidya Technology not only developed a real digital twin, but it also made it possible to overlay 3D data.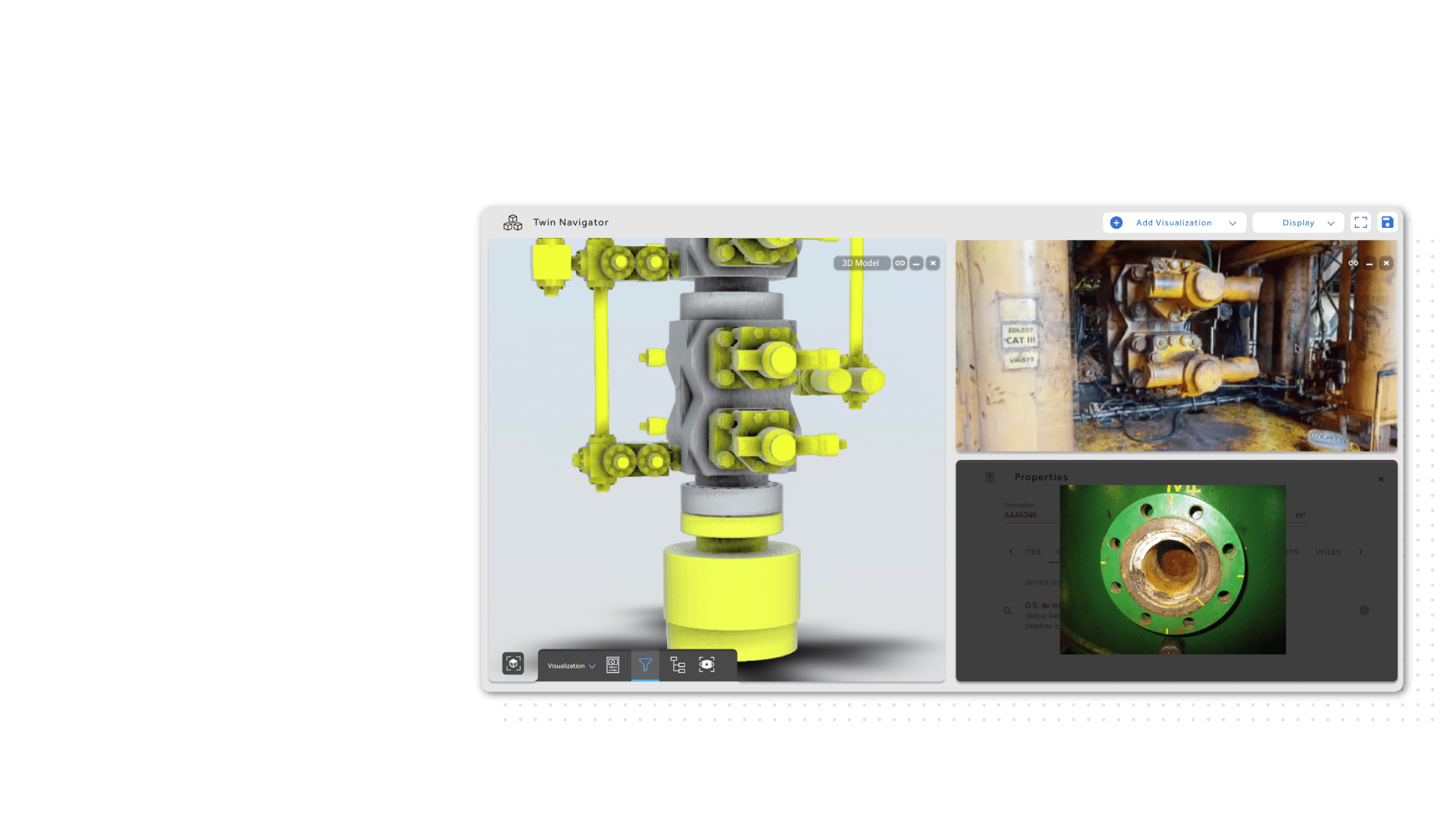 Vidya Software is capable of overlaying one or more 3D data sources such as point clouds, photogrammetry, and life cycle engineering models on the same platform, allowing information exchange between them. This allows the operator to perform inspection using photogrammetry in real-time, run defect classifiers, connect images to databases, and other innovative possibilities to monitor asset integrity.
Also, with this feature one can compare, for example, several laser scans done on a regular time basis , and compare them between each other , all linked in the 3D model. 
My Dashboard
All the information about your industrial plant in just one intuitive BI My Dashboard from Vidya, brings asset integrity management to another level. With simple information, you can customize your own in many ways, making it easier to visualize and keep track of your activities.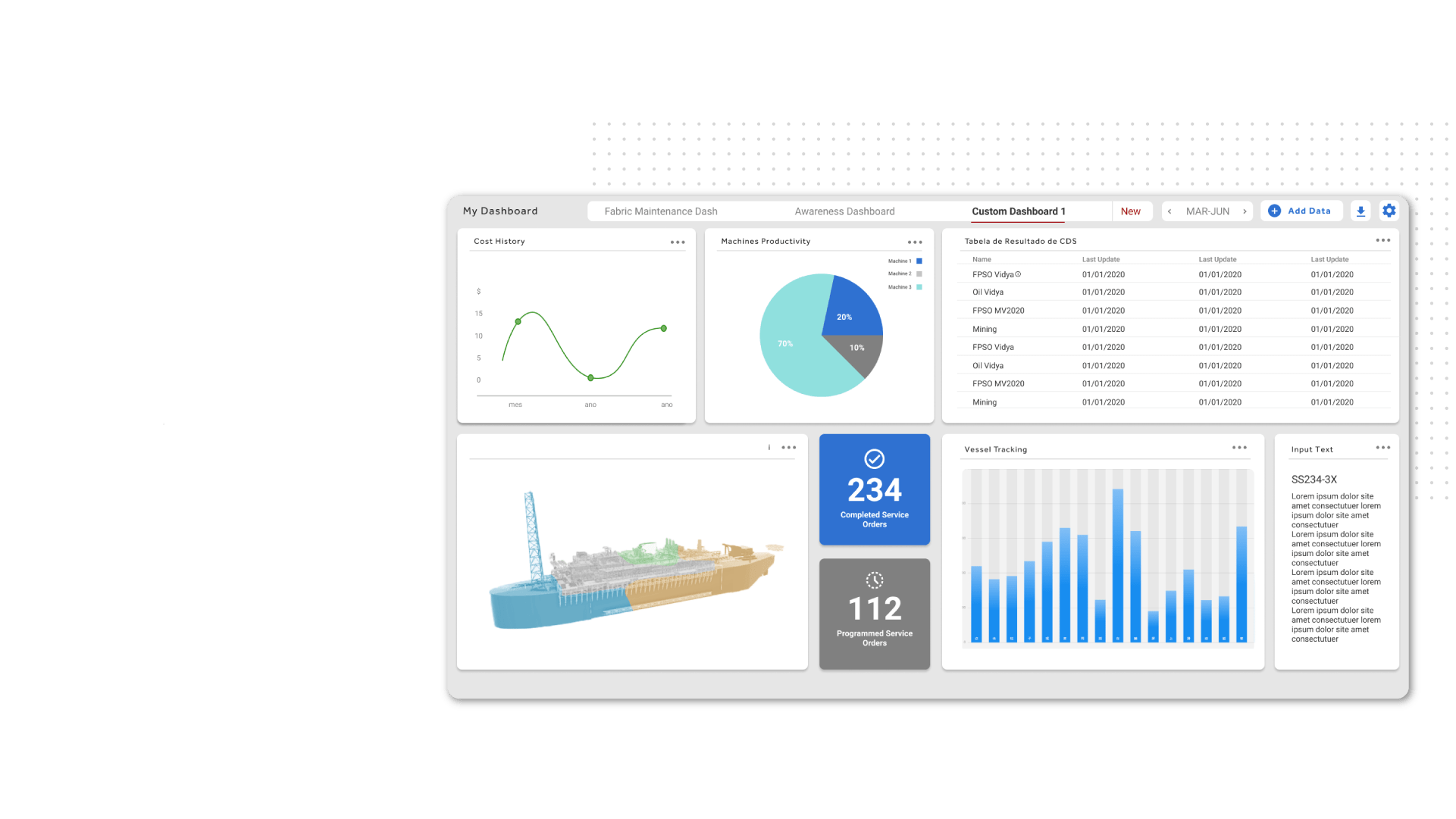 One of the pillars of the Vidya Software is customization. Therefore, it couldn't be different for our dashboard. All the widgets, graphs, tables, and information dashboards are fully customizable. It's ideal as a general panel to have the main asset information in first hand. With a fast and agile visualization, you can make more precise strategic decisions. 
Vidya is always innovating with cutting edge technologies, and 2021 will be even better! If you want to know more about our software, or if you already use it and have more insights for us, let us know! We hope you all enjoyed our newest features.